Getting ready for the winter season?
Looking for the best pool cover to protect your prized pool?
Look no further, we have found the best quality winter pool covers available. Investing in a winter pool cover will make a world of a difference and protect your investment for years to come.
Not only does it protect your pool from the elements, but it also protects people and pets from falling into the pool in the winter months. You can find pool covers for round, oval, and rectangular pools, so there is a cover for all shapes and sizes.
Best Round Pool Covers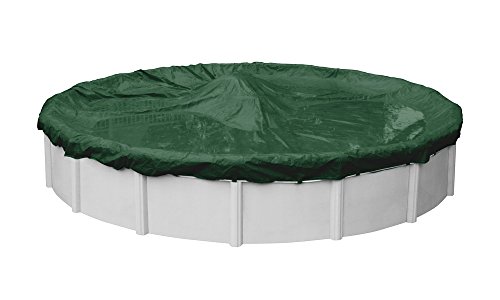 Robelle makes some of the best pool covers available and the Dura-Guard covers are top notch. This cover is constructed from 8×8 scrim heavy duty polyethylene, which makes it very durable in the harsh winter conditions. There is almost four feet of overlap making the cover very easy to secure.
Not only is there a nice overlap, but it comes with a winch and cable to secure the cover down nice and tight. This product is backed by an eight year warranty so even if the winter gets the best of this cover, Robelle will replace it for you.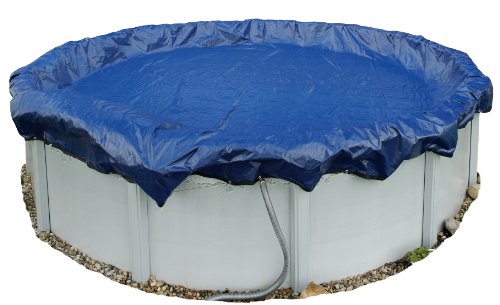 This cover made by Blue Wave is backed by an amazing 15 year warranty. It is constructed out of woven polyethylene that protects your pool from sun damage, snow, ice and the cold winter winds. This cover also features a nice four foot overlap to fit pools with big overhangs and makes securing the cover quick and easy.
You will get a heavy duty cable and winch tightener that will anchor the cover using the covers metal grommets. This cover is built to last and can endure multiple seasons of harsh winter weather. If you have a round pool and want to keep it nice and safe all winter long, get one of these Blue Wave dirt defender covers. You will not be disappointed!
Best Rectangular Pool Covers
Note this is just a leaf net, not intended to be a winter cover for areas with freezing temperatures or lots of snow. This is another great cover from Blue Wave that is designed to keep falling leaves from getting in your pool. The Dirt Defender leaf nets are manufactured from woven polyethylene and feature a four year warranty.
The mesh is very tight and will keep even the smallest leaves out of your pool in the spring and fall seasons. You can also lay one of these over your winter pool cover to provide an extra layer of protection and avoid any damage to your winter cover. The leaf nets for above ground pools offer a nice three foot overlap. They also include a cable and winch to secure the cover in place.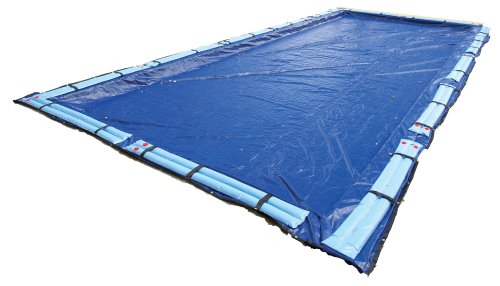 This rectangular inground pool cover by Blue Wave is built to last, constructed by strong and tear resistant material. The covers woven polyethylene scrim has a U.V. stabilizing feature that helps protect your pool from snow, sun, ice and the harsh winter winds. The underside of the cover is black, which helps prevent algae from forming, ensuring your pool water will be crystal clear come next spring.
There are loops every four feet to tie down the included water bags, and corner grommets assist in securing the cover in windy conditions. The cover has about a five foot overlap, giving you some wiggle room if needed. This cover is backed by a 15 year warranty (three years full-rated), so if you are looking to protect your pool for the long run, this is the perfect solution.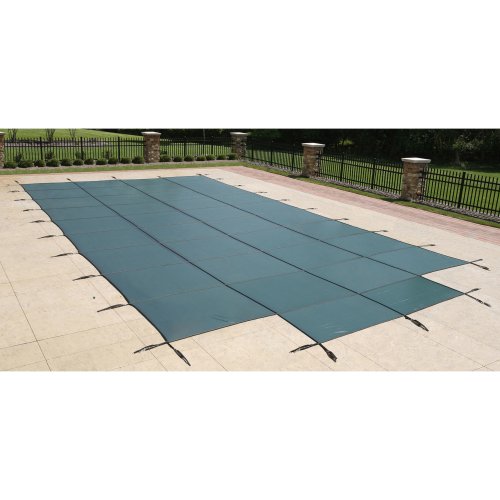 If you are looking for a super heavy duty cover that will prevent your children or pets from falling in, this safety cover is an amazing product. This cover is strong enough to support the weight of your whole family but still manageable when installing or removing between seasons. The two ply mesh construction of this covers material has a break strength of over 4,000 pounds.
You mount the cover with brass anchors that lay flush with your pool deck when not in use. This cover not only protects your loved ones, but also your pool from the harsh winter conditions including snow, wind, ice and frigid temperatures. The screen material lets water pass through so there will not be any pooling or sagging, but keeps all the debris out during the off-season. Backed by a nice 12 year warranty, you can't beat the peace of mind, no more worrying about someone accidentally drowning in the half frozen pool this winter.
Best Oval Pool Covers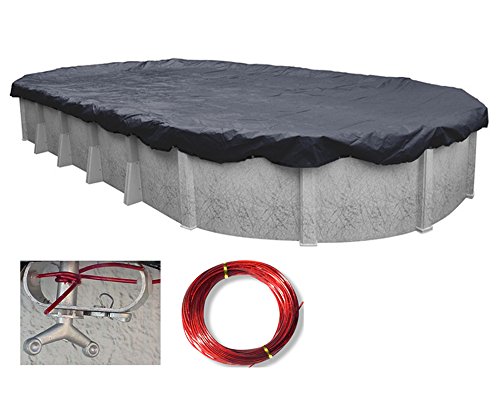 This product by Deluxe features a triple laminated material for extra strength and double grommets every three feet. The color is reversible so you can have the cover show blue with black on the bottom, or black with blue on the bottom. That's like getting two covers for the price of one! We recommend you keep the black on the bottom to prevent bacteria and algae from forming while the pool is closed for the season.
You will get a three foot overhang to ensure you can pull the cover tight, and secure it with the included vinyl coated cable and turnbuckle assembly. The loops are double-stitched hems and are made with U.V. resisted nylon threads. If you are looking for a quality oval pool cover that wont break the bank the Deluxe cover will not disappoint.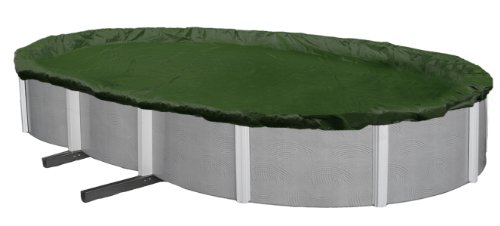 The last cover we recommend is another dirt defender cover made by Blue Wave. Woven from high quality polyethylene scrim provides this cover with plenty of durability for the winter months. This cover is designed to protect your pool from wind, sleet and minor snowfall. Heavy snowfall or extremely high winds could damage this cover. If you live in an area with harsh conditions you will need a more heavy duty cover to protect your pool.
The bottom of the cover features a black underlining to prevent algae growth. You get a nice four foot overlap to guarantee a nice fit around the entire pool. The dirt defender cover is held securely by a heavy duty vinyl coated cable and tightener that is anchored by the metal grommets. This cover is backed by a 12 year (two full) warranty in case the cover gets damaged.
Make sure to protect your pool this winter with one of these great pool covers!
Other References
How to Install a Swimming Pool Cover