Save yourself the work and hassle of cleaning your inground pool the old fashioned way, and get an inground pool cleaner today!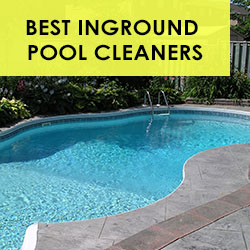 This set of reviews will cover the best inground pool cleaners available. While they are non-robotic, they are still automatic.
Inground pools can be a bit more demanding for maintenance than above ground pools.
There are stairs, changing depths, ladders, diving boards, and all sorts of other nooks and crannies that make cleaning the pool a hassle.
Most of the pool cleaners listed below can hook up to your pool's current filtration and/or pump system.
This can put some extra strain on your equipment and must be monitored to ensure good results and longevity of the equipment.
You will need to empty your skimmer and backwash containers much more often with one of these cleaners attached, especially if the pool is extremely dirty or has large amounts of debris.
Let's dive right in!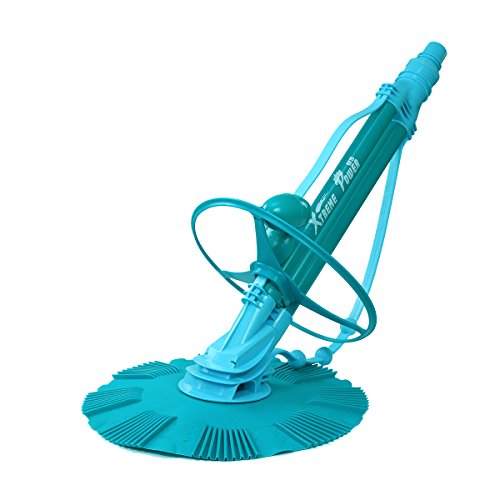 The first above inground pool cleaner we recommend is manufactured by Xtreme Power USA.
This pool vacuum will cover pools up to 16 x 30 feet and needs to hook up to an existing water pump of at least three/four horse power, or 1600 gallons per hour to operate at optimum performance.
There is no need for tools to assemble, and no need for electricity or wires to power the cleaner. It runs solely off your existing pool pump.
This may be a generic brand pool cleaner, but this little guy can compete with the big boys.
There is a 90 day money back guarantee. Please note this pool cleaner cannot operate in water levels below three feet deep, the floating hose will not be able to guide the cleaner in shallow water.
For under $100, this is great budget option for smaller inground pools that need a fairly low level of maintenance.
Up next is the Baracuda G3 W03000 Advanced Suction Side Automatic Pool Cleaner by Zodiac.
This automatic pool cleaner is great for ingound pools up to 38 feet. This is a suction side cleaner so it will need to hook up to your pool's existing skimmer.
The G3 is great for picking up small and medium debris in most inground pools.
The Barracuda G3 also features Zodiac's FlowKeeper™ valve which controls the water flow through the cleaner allowing for optimum cleaning efficiency.
You won't need any special tools or even much time to install the G3.
Basically, you attach the disc and wheel deflector, attach the hose to your skimmer, and you are good to go.
The Barracuda G3 is backed by a solid one year warranty. If you are trying to save yourself some time and effort by keeping your inground pool clean all season long, grab a Barracuda G3.
You will not be disappointed!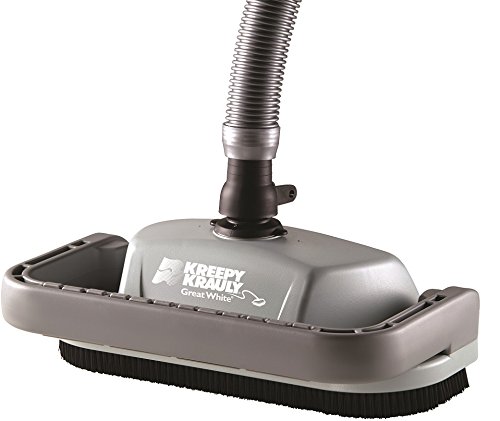 Next we have the Pentair GW9500 Kreepy Krauly Great White Inground Pool Cleaner.
Backed by the well known Pentair brand, this automatic inground pool cleaner will allow you to spend more time enjoying your pool instead of worrying about maintaining it.
This cleaner features a unique bristle drive system and vortex oscillation system that is designed to scrub and vacuum large and small debris.
The wide 15 inch path the cleaner plows through with will shorten the run time needed to fully sweep the entire pool.
There is no assembly required; simply hook the cleaner up and let it do its thing.
The Kreepy Krauly GW9500 is a great choice for flat, dish-incline and hopper bottom pools.
Pentair offers a one year manufacturer warranty that will replace defective or broken parts.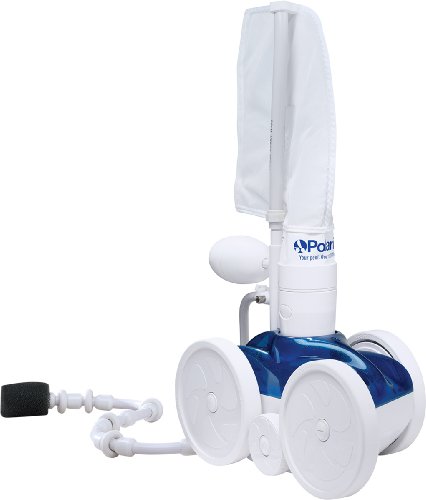 This funky looking inground pool cleaner is the Polaris Vac-Sweep 280 Pressure Side Pool Cleaner by Zodiac.
This cleaner includes a 31 foot hose but requires a Polaris booster pump (sold separately).
Having the external booster pump will take the extra load off your current pool's skimmer and filtration system, which prolongs the overall life of both systems.
booster pump
The Vac-Sweep 280 will scrub, sweep and vacuum all surfaces of your pool.
The attached filter bag will capture large debris such as acorns, leaves, pebbles, as well as smaller debris. The Vac-Sweep inground pool cleaner is backed by a one year manufacturer warranty.
This is the number one best seller on Amazon for inground (non-robotic) pool cleaners. It may be a bit pricey but it will definitely not disappoint.
Here we have a great inground pool cleaner made by Hayward.
The PoolCleaner Automatic 2-Wheel Suction Cleaner is designed to work on concrete pools.
This cleaner features a patented self-adjusting turbine system that provides maximum power and allows passage of large debris.
The two-wheel drive tires are also made of a patented tread material that allows superior climbing and navigation around obstacles.
The roller skirt is also patented, which assists in keeping suction constant on uneven surfaces.
The PoolCleaner is pre-programmed with a series of internal steering sequences that allow the cleaner to navigate every square inch of your pool. There are three interchangeable throats that allow or restrict water flow as needed.
This cleaner requires a minimum pump size of one/two horse power or 35 gallons per minute water circulation rating.
You will receive a two year warranty from the date of purchase that will cover parts and labor for defective parts and wear and tear.
Last but not least we have the Navigator Pro 925ADC by Hayward. This model is specifically designed for gunite pools.
Hayward does make different models for vinyl and fiberglass pools.
This inground pool cleaner is extremely east to set up, with the average install taking about ten minutes.
The Navigator Pro features an exclusive SmartDrive system that ensures cleaning cycles completed in three to four hours max.
The overall operation sound of this cleaner is very quiet so you won't have a noisy machine disturbing your relaxing atmosphere.
Hayward's patented SmartDrive technology will harness the flow of water, and have the cleaner take a series of left and right turns to systematically clean all surfaces with the best possible coverage.
The efficiency of this cleaner is much better than cleaners that use random patterns. If you have a gunite pool, this cleaner is right up your alley.