What is a portable swimming pool?
A portable swimming pool is pretty much exactly as it sounds. It is a swimming pool that can be moved and relocated if needed. Most portable swimming pools are smaller than their permanent counterparts. Some portable pools that are available are inflatable so they can take up very little space when being transported or stored.
Portable swimming pools come in all shapes and sizes, ranging from a few feet in diameter to custom rectangle pools up to 20 feet in length.
Top 5 Portable Swimming Pools
If you are looking for a decent sized pool but need it to be portable, the Intex 15 feet x 42 inch is a great option. The pool can be setup easily in about 15 minutes. Simply spread out the pool on flat ground, inflate the top ring, fill the pool with water and enjoy the comfort of your own pool.
The pool can hold 3,284 gallons of water, which is cycled with the included Krystal clear cartridge filter pump. There is also an included ladder for easy access getting in and out of the pool. The walls are made of very strong PVC laminated material that is quite durable, and will keep the pool from ripping or tearing from pressure.
Here we have one of the most basic portable swimming pools available, the Intex Swim Center Family Inflatable Pool. The dimensions are 103 x 69 x 22 inches and the pool has two inflatable air chambers that must be inflated. The Intex Swim Center has a capacity of 198 gallons. Once inflated and filled with water, the pool is ready to be enjoyed.
This product does include a repair patch that can be used to repair a small rip or puncture to the air cushion walls. There is also a shelf box for storing the pool or when it is transported between uses. If you are looking for a small pool for your kids to enjoy and are looking to keep it cheap and simple, this will deliver some good family fun without breaking the bank.
Up next is the Intex Ocean Reef, which is a ten foot inflatable pool that is great for younger kids. The setup process is very simple. Just lay out the pool, inflate the top ring and add water, and hook up the pump. This can all be done in about ten minutes. The included 110-120 volt pump is capable of filtering about 330 gallons of water per hour. The pool also comes with an instructional setup and maintenance DVD.
The pool water capacity is 1,018 gallons, and the filter uses a dual suction outlet that improves water circulation and overall water quality. The included pump may be a little under powered for the size of the pool, but for this price, you can't go wrong. If you are trying to keep the cost below $100 dollars, the Intex Ocean Reef is a great option to consider.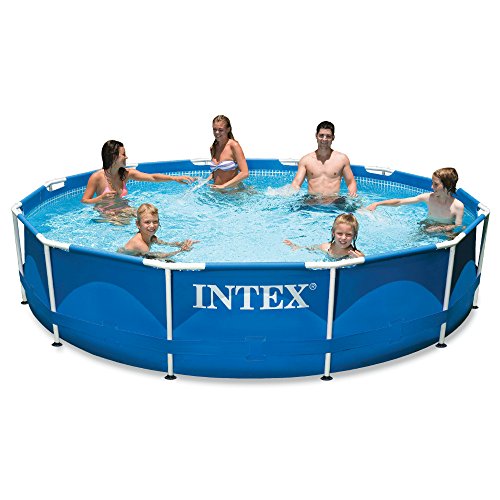 If you are not a fan of having to blow things up or just do not like the idea of an inflatable structure for your pool, you may like the Metal Frame Pools by Intex. The setup time on this pool is a little longer than the inflatable versions, but is still very basic and quick to setup. The pool is 12 feet wide and about 30 inches deep. This model comes with a ground fault based circuit that will shut off the pump in the event the electrical current is exposed to water.
The pool's capacity is 1,718 gallons, which is continuously circulated by the included Krystal clear cartridge filter at about 530 gallons per hour. The drain plugs also have the ability to hook up to a garden hose if you need to drain the pool and do not want the water collecting near the pool. The walls are made of laminated PVC that provides a flexible yet strong barrier, which keeps the water in the pool. This product costs a little more than the inflatable models, but can handle a bit more of a beating as there are no inflatable parts that can pop.
Last but not least is the Intex 18 foot by 10 foot Oval Inflatable Portable swimming pool. The oval shape and PVC frame offer more support than the standalone inflatable pools. This model can be ready for water in about 30 minutes, and includes a setup and maintenance DVD for easy to follow instructions. This pool set includes a Krystal clear cartridge filter pump with the ability to cycle 1,000 gallons of water per hour. Also included are a ladder, ground cloth, and debris cover.
The water capacity for this pool is 2,885 gallons and the included filter can cycle through all of the water in just under three hours. The support frame is powder-coated to help prevent rust and keep the pool looking nice and new. It is a little pricier at just under $300, but this option is great if you are worried about the structure of an inflatable-only pool.
What are the benefits of having a portable swimming pool?
Easy to setup and store
You can move the pool to a new location if needed
Portable swimming pools usually cost much less than permanent pools
There is no need for any digging, electrical work, costly maintenance and upkeep of a standard inground or above ground pool
What are the limitations of a portable swimming pool?
There is no option to have a deep end of a portable pool
Most portable swimming pools are much smaller than permanent swimming pools
Prone to damage, most are inflatable and are susceptible to rips or punctures from sharp objects